Care package Mamore
Regular price
Sale price
$25.00 USD
Unit price
per
Sale
Sold out
Start your sustainable life today, by using reusable products, ecological materials and responsible consumables!
Your Care Set consists of:
Ramie Massage Glove

Jute Back Scrubber
Loofah Sponge
Natural Pumice Stone
Ramie Massage Glove
Ramie is a natural fiber derived from the stems of the Ramie plant (Boehmeria nivea). Ramie fibers are highly absorbent and breathable, allowing them to dry quickly.
Jute Back Scrubber
Jute is a natural fiber obtained from the stem of the jute plant, also known as Corchorus capsularis and Corchorus olitorius. It is mainly grown in warm and humid regions, including India, Bangladesh, China and Thailand. Jute has been cultivated for centuries.
Long lifespan
Absorbs moisture well, but also dries quickly
Extra sturdy
Fast drying
Vegan
Loofah Sponge
Your green-goose Loofah Pad measures 5 by 10 cm and is perfect for the bath or shower. It is biodegradable and lasts a very long time.
Your benefits:

Exfoliation
Stimulation of blood circulation
Improves the absorption of skin care products
Removes ingrown hairs
Sustainability
Natural Pumice Stone
Your Natural Pumice Stone removes dead skin cells, calluses and corns and ensures wonderfully soft hands and feet.
Durable
Effective
Ecological
Contains no harmful chemicals
Hypoallergenic
Bacteriostatic
green goose
Sustainable Products, Environmentally Friendly Materials
To share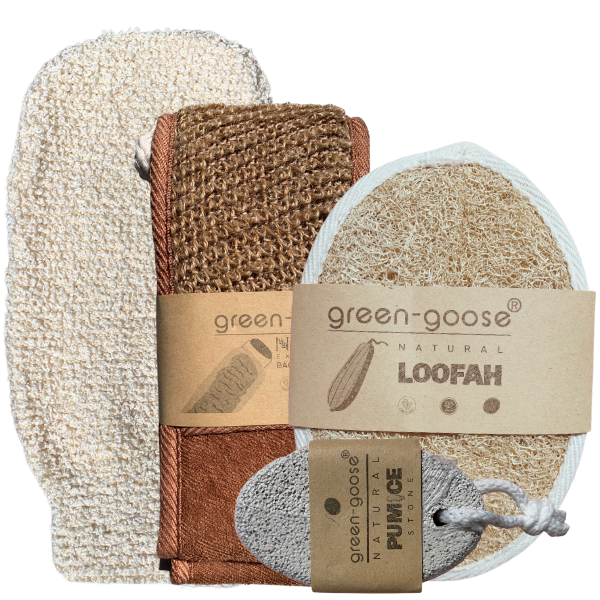 Become a business order or distributor?

Do you want to know more about ordering larger quantities, or selling green-goose in your (online) store? Then contact us!

Free shipping

Enjoy free shipping by ordering 30 euros or more worth of sustainable items. Or pick it up for free!